Cassettes for histology and biopsy / embedding cassettes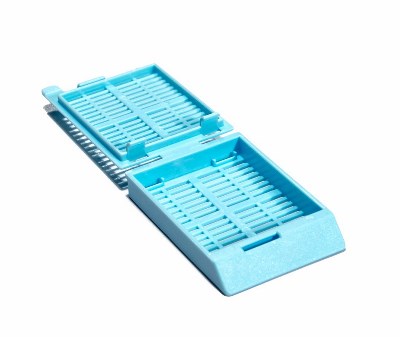 Embedding cassettes with removable cover. Made of acetalic resin, resistant to solvents decalcificants histological solutions and ultrasound techniques. Writing space for sample identifications.Suitable also to automatic printers.
Innovative closing system.

Object of the inventions is to eliminate the inconvenience of cassette's accidental opening during processing resulting in a loss of the sample and at the same time to allow an easy opening of cassette.

This object is achieved with the presence of a hook closure front facing the inside of the cassette that in case of voluminous sample resists to accidental opening.

Moreover, the presence of special ribs located on the lid, prevents the forward movement thereof with respect to the body of the cassette, ensuring the insertion and sealing of the two rear hooks into the appropriate slits (Photo 2) , thus avoiding the opening of the cassette on the back

The opening tab does not present sharp edges and is structured so as to allow easy opening by the operator. Anterior writing area is at a 45° angle.
Made of POM.
Histology cassettes
Image
Code
Description
Unit
Quantity
Biopsy cassettes
Image
Code
Description
Unit
Quantity
Histology sponge
Image
Code
Description
Unit
Quantity