Polycarbonate Cryoboxes 1D - CLEARLine®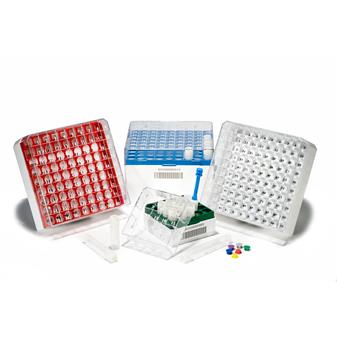 Boxes in polycarbonate 1D for CryoGen® Tubes storage.
Linear Barcode 'code 128' lasered on the rack side. Suitable for automatic storage system.
Different models are available to accommodate either 25, 81 or 100 CryoGen® tubes.
These durable cryogenic storage boxes are designed to be used at temperatures between -196°C and +121°C and are autoclavable at 120°C, for 20 minutes. Break-resistant, durable polycarbonate
To be used at temperatures between – 196 °C and +121°C
Autoclavable at +121°C for 20 minutes
Laser engraved "Code 128" on the rack side
Numbered lid and bottom for an easy tubes positioning
Four different colours of grids for better colour-coding: Blue, Yellow, Red and Green.
25 positions
Image
Code
Description
Unit
Quantity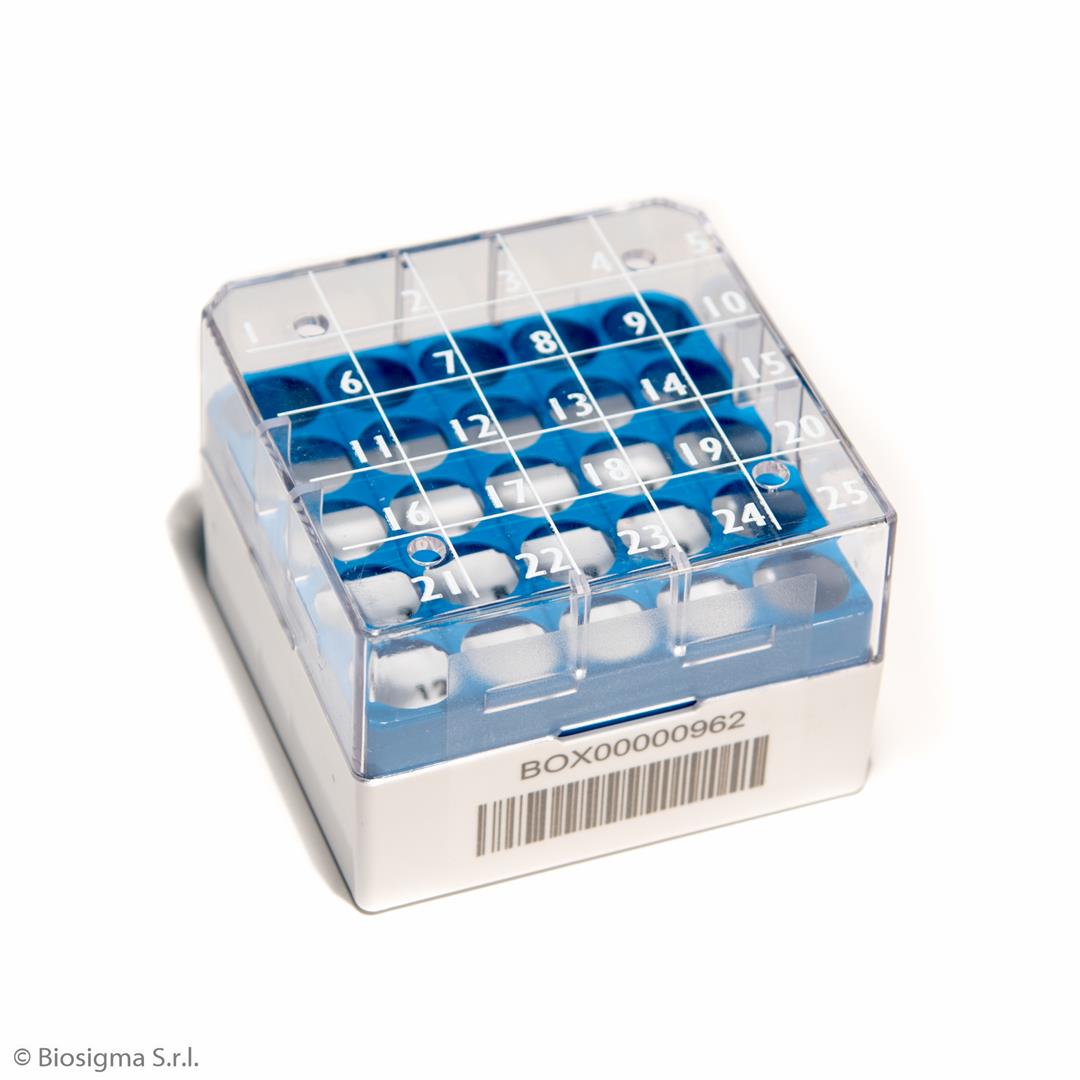 BSM58025B1D/AZ
CRYOGEN&reg BOX 25 places -1D barcoded- for 1 and 2 ml tubes,light blue grid, numbered lid and bottom, writing area on box side, in polycarbonate. 76x76x52 mm
4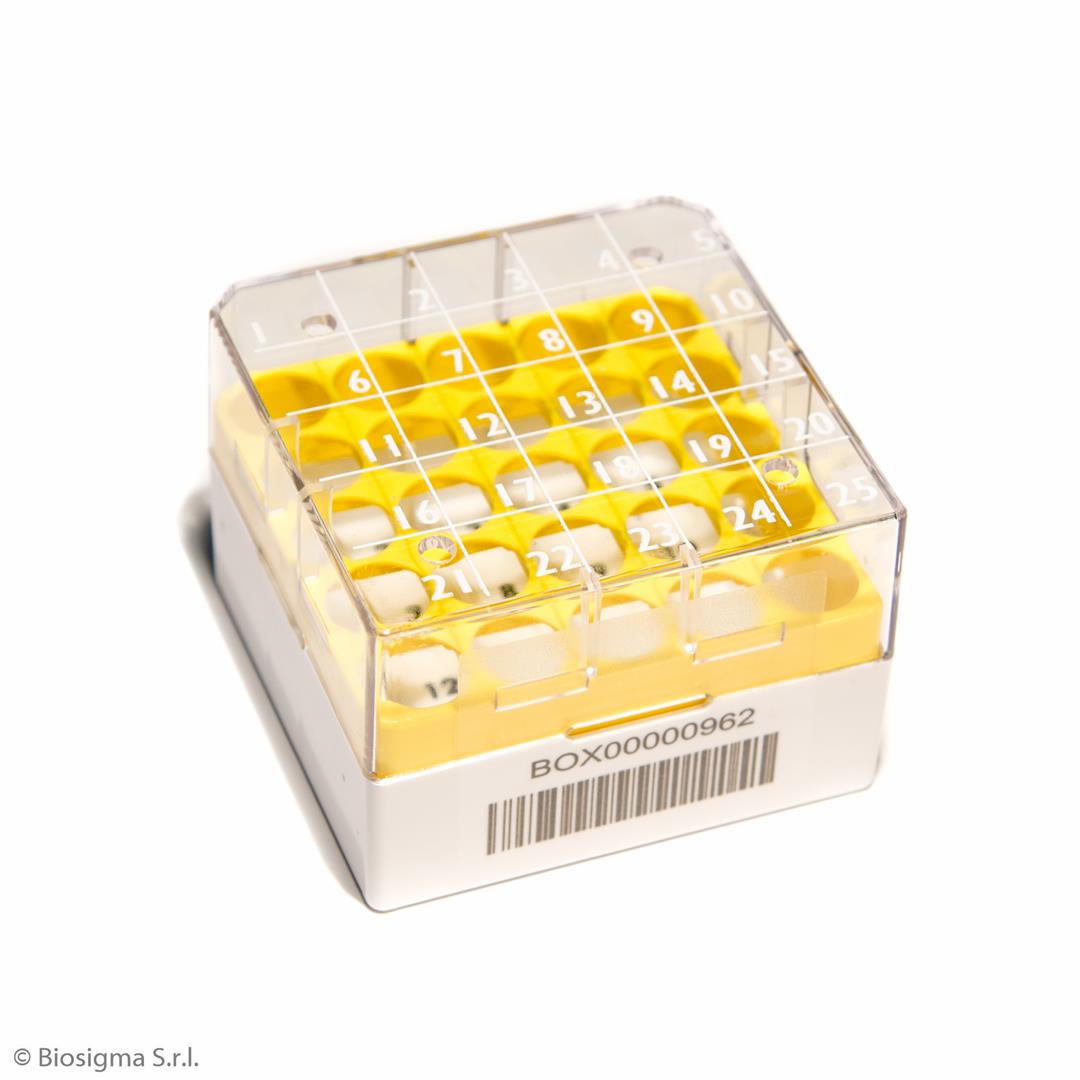 BSM58025B1D/G
CRYOGEN&reg BOX 25 places -1D barcoded- for 1 and 2 ml tubes,yellow grid, numbered lid and bottom, writing area on box side, in polycarbonate. 76x76x52 mm
4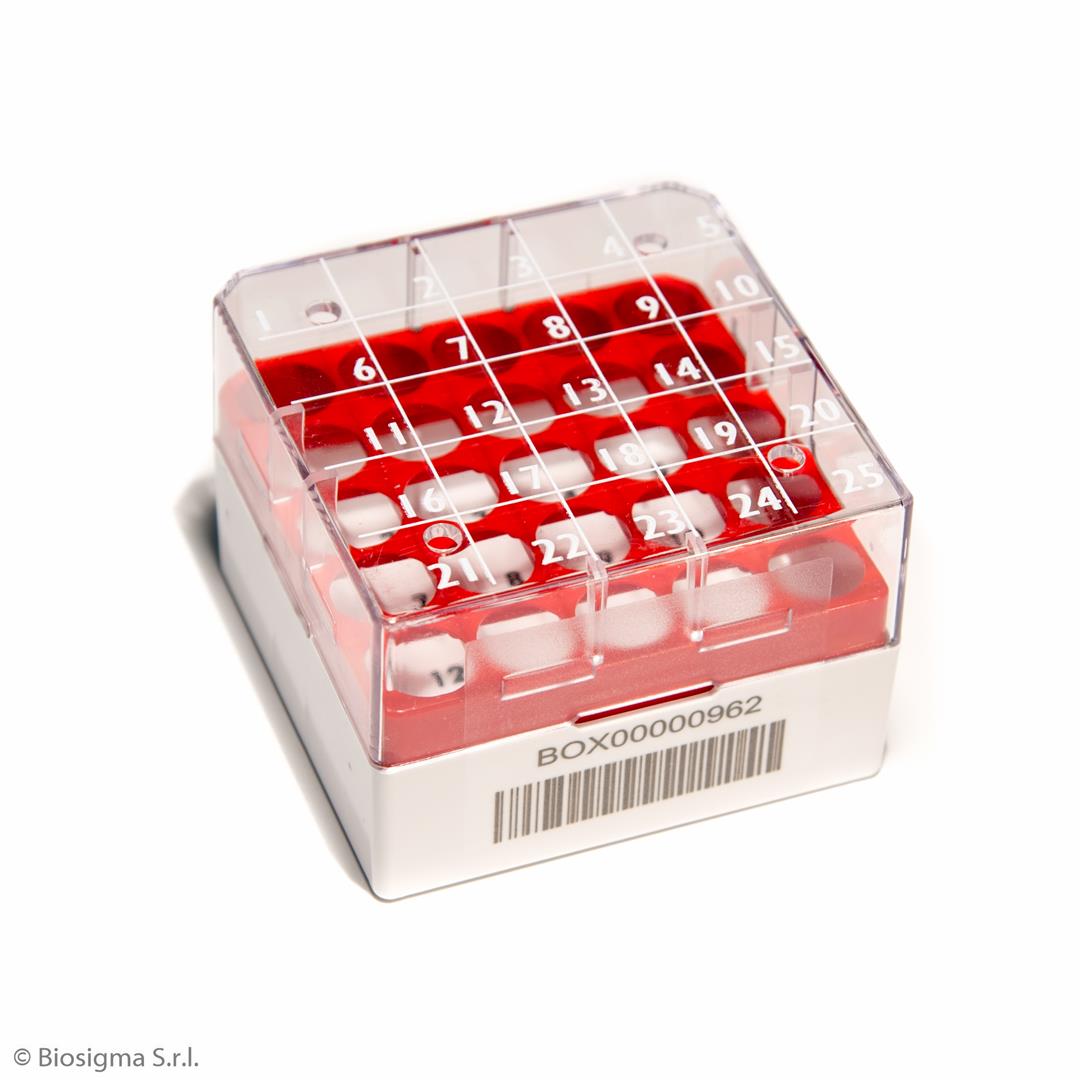 BSM58025B1D/RO
CRYOGEN&reg BOX 25 places -1D barcoded- for 1 and 2 ml tubes,red grid, numbered lid and bottom, writing area on box side, in polycarbonate. 76x76x52 mm
4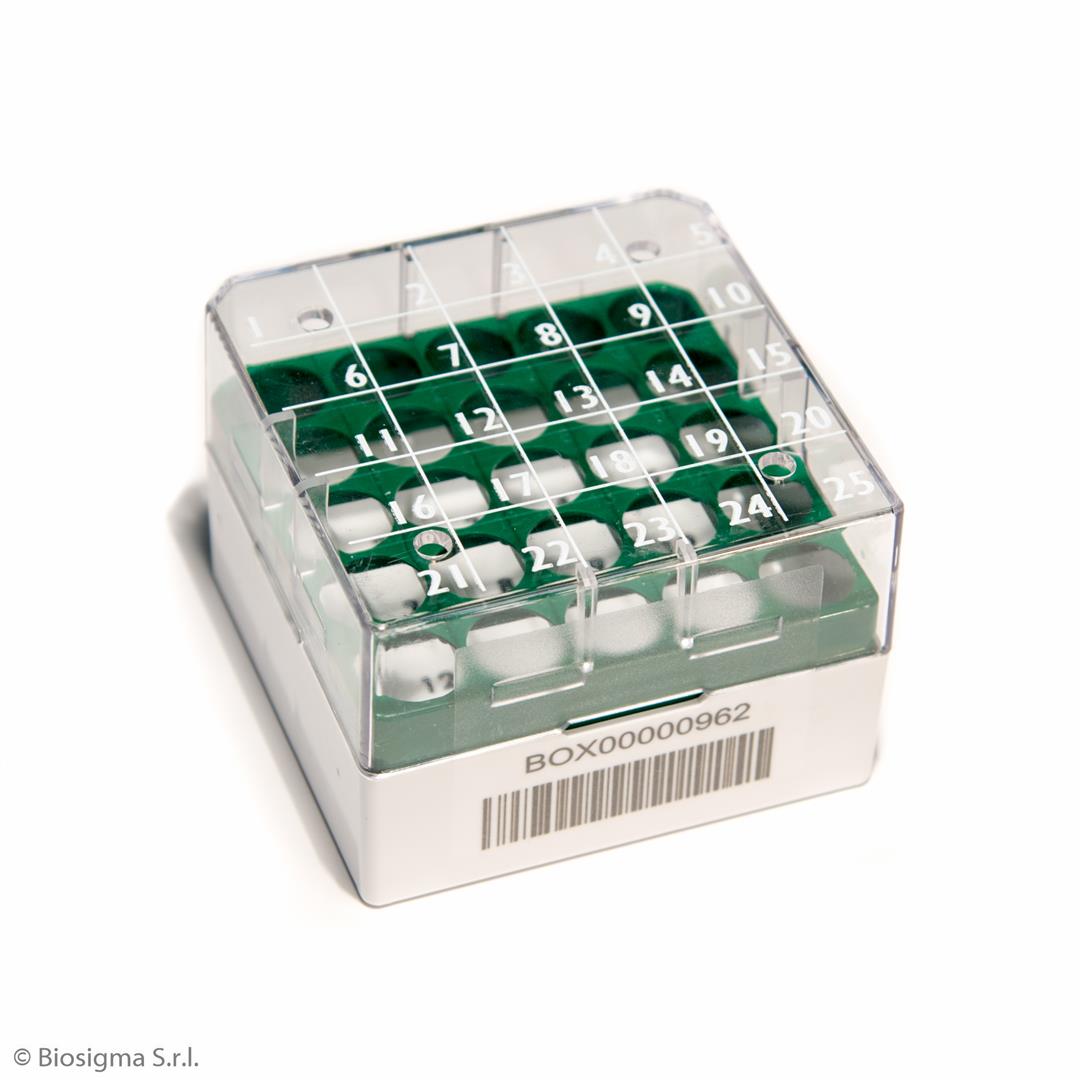 BSM58025B1D/V
CRYOGEN&reg BOX 25 places -1D barcoded- for 1 and 2 ml tubes,green grid, numbered lid and bottom, writing area on box side, in polycarbonate. 76x76x52 mm
4
81 positions
Image
Code
Description
Unit
Quantity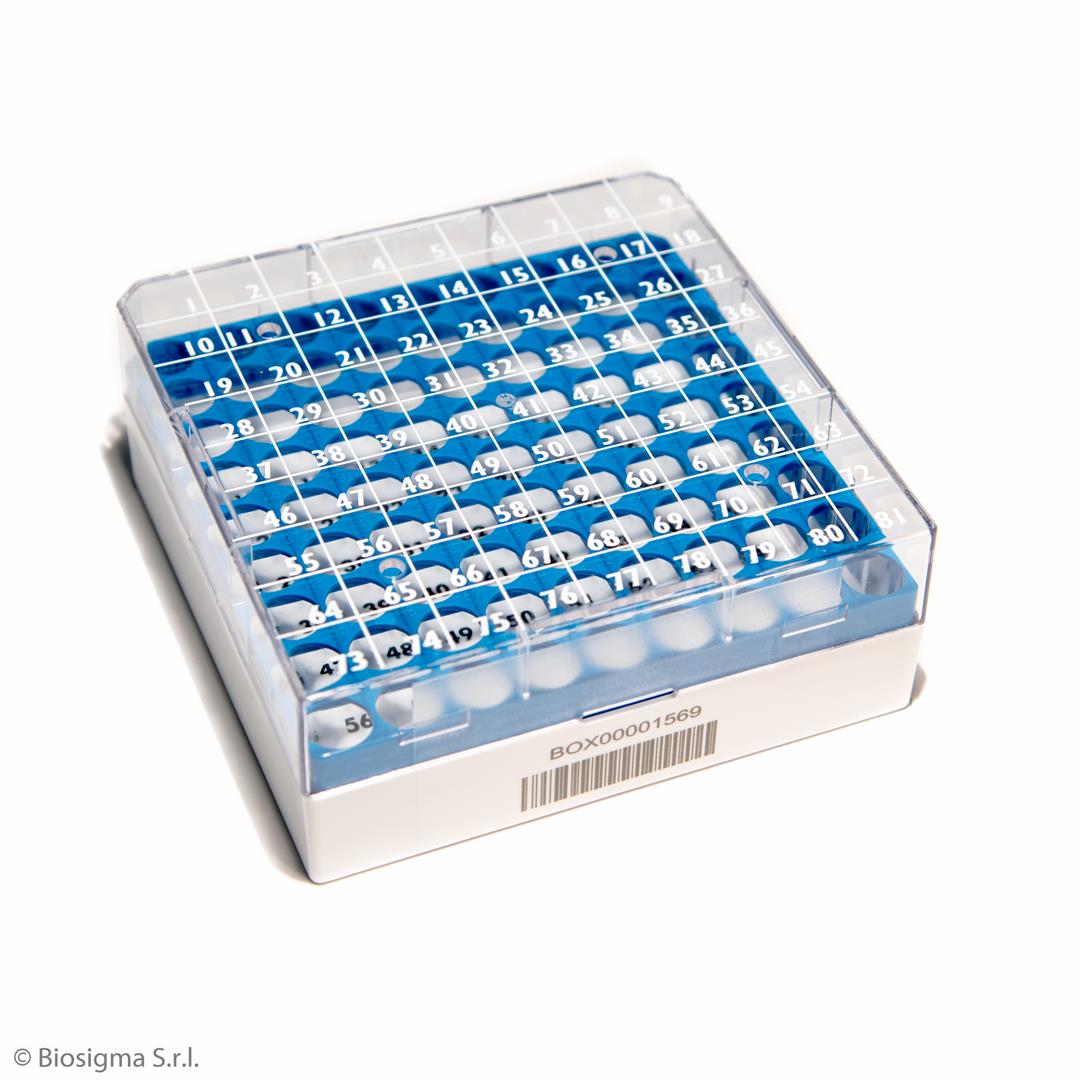 BSM58061B1D/AZ
CRYOGEN&reg BOX 81 places -1D barcoded- for 1 and 2 ml tubes,light blue grid, numbered lid and bottom, writing area on box side, in polycarbonate. 132x132x52 mm
4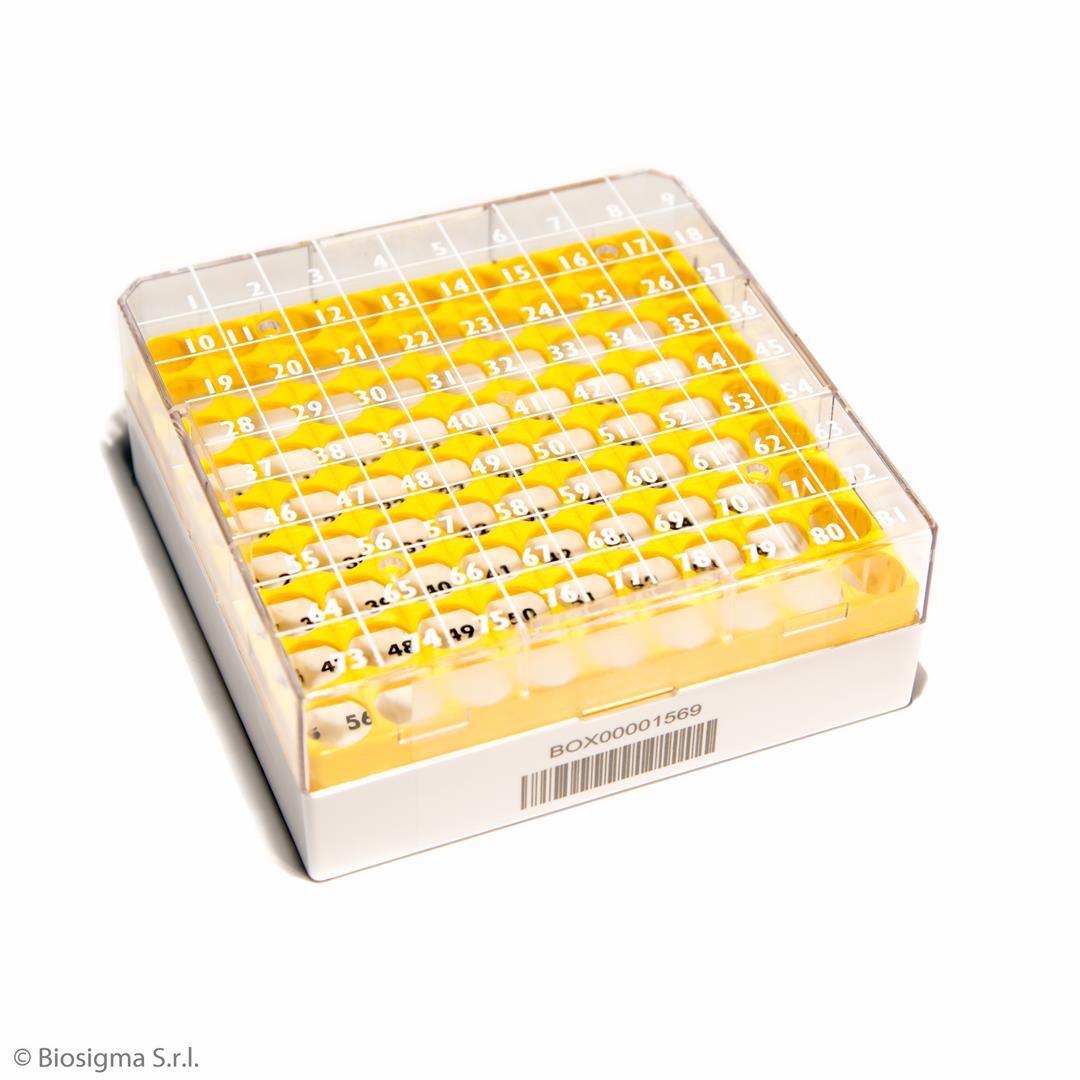 BSM58061B1D/G
CRYOGEN&reg BOX 81 places -1D barcoded- for 1 and 2 ml tubes,yellow grid, numbered lid and bottom, writing area on box side, in polycarbonate. 132x132x52 mm
4
BSM58061B1D/RO
CRYOGEN&reg BOX 81 places -1D barcoded- for 1 and 2 ml tubes,red grid, numbered lid and bottom, writing area on box side, in polycarbonate. 132x132x52 mm
4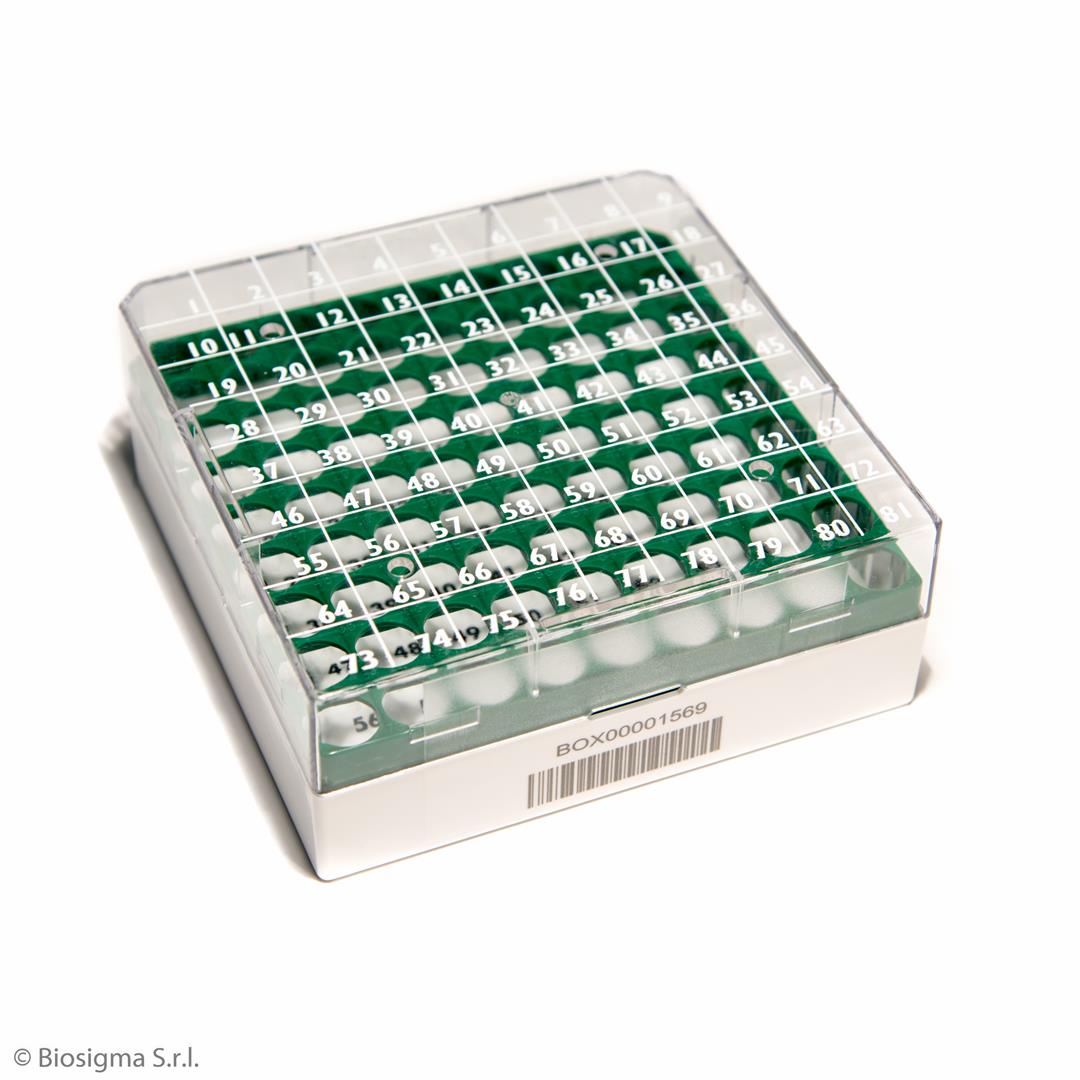 BSM58061B1D/V
CRYOGEN&reg BOX 81 places -1D barcoded- for 1 and 2 ml tubes,green grid, numbered lid and bottom, writing area on box side, in polycarbonate. 132x132x52 mm
4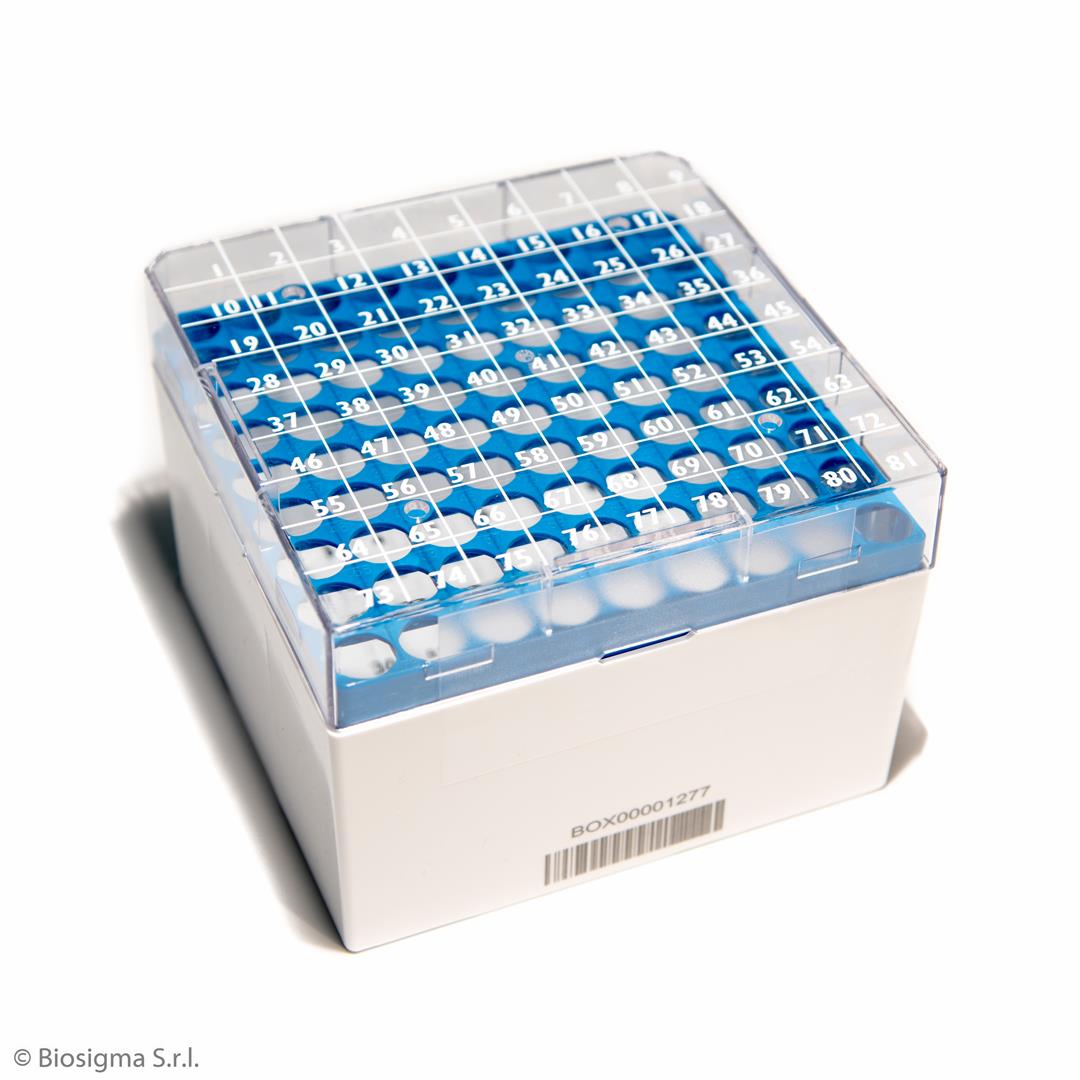 BSM58071B1D/AZ
CRYOGEN&reg BOX 81 places -1D barcoded- for 3-4-5 ml external tubes and 5ml internal tubes, light blue grid, numbered lid, writing area on box side, in polycarbonate. 132x132x94 mm
4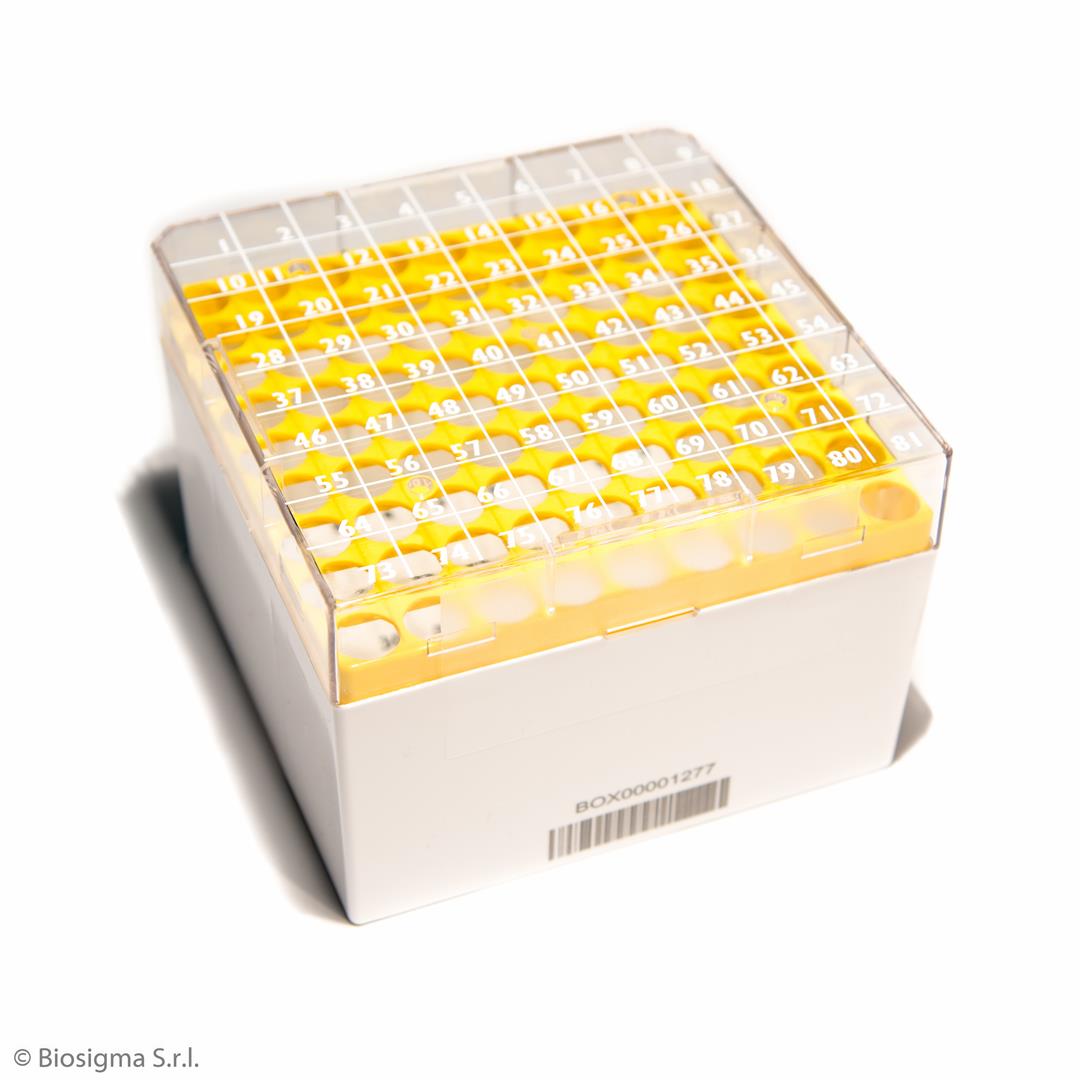 BSM58071B1D/G
CRYOGEN&reg BOX 81 places -1D barcoded- for 3-4-5 ml external tubes and 5ml internal tubes, yellow grid, numbered lid, writing area on box side, in polycarbonate. 132x132x94 mm
4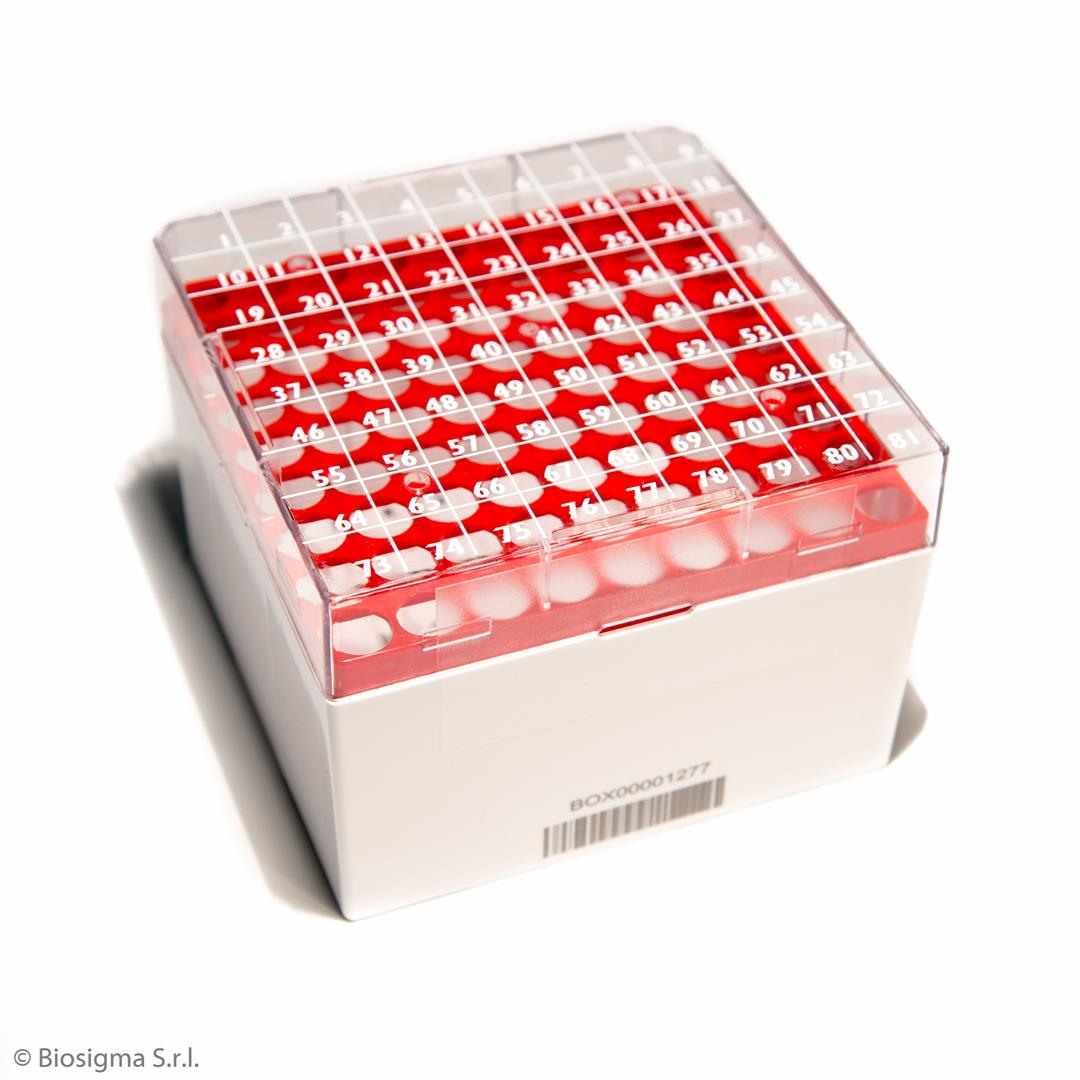 BSM58071B1D/RO
CRYOGEN&reg BOX 81 places -1D barcoded- for 3-4-5 ml external tubes and 5ml internal tubes, red grid, numbered lid, writing area on box side, in polycarbonate. 132x132x94 mm
4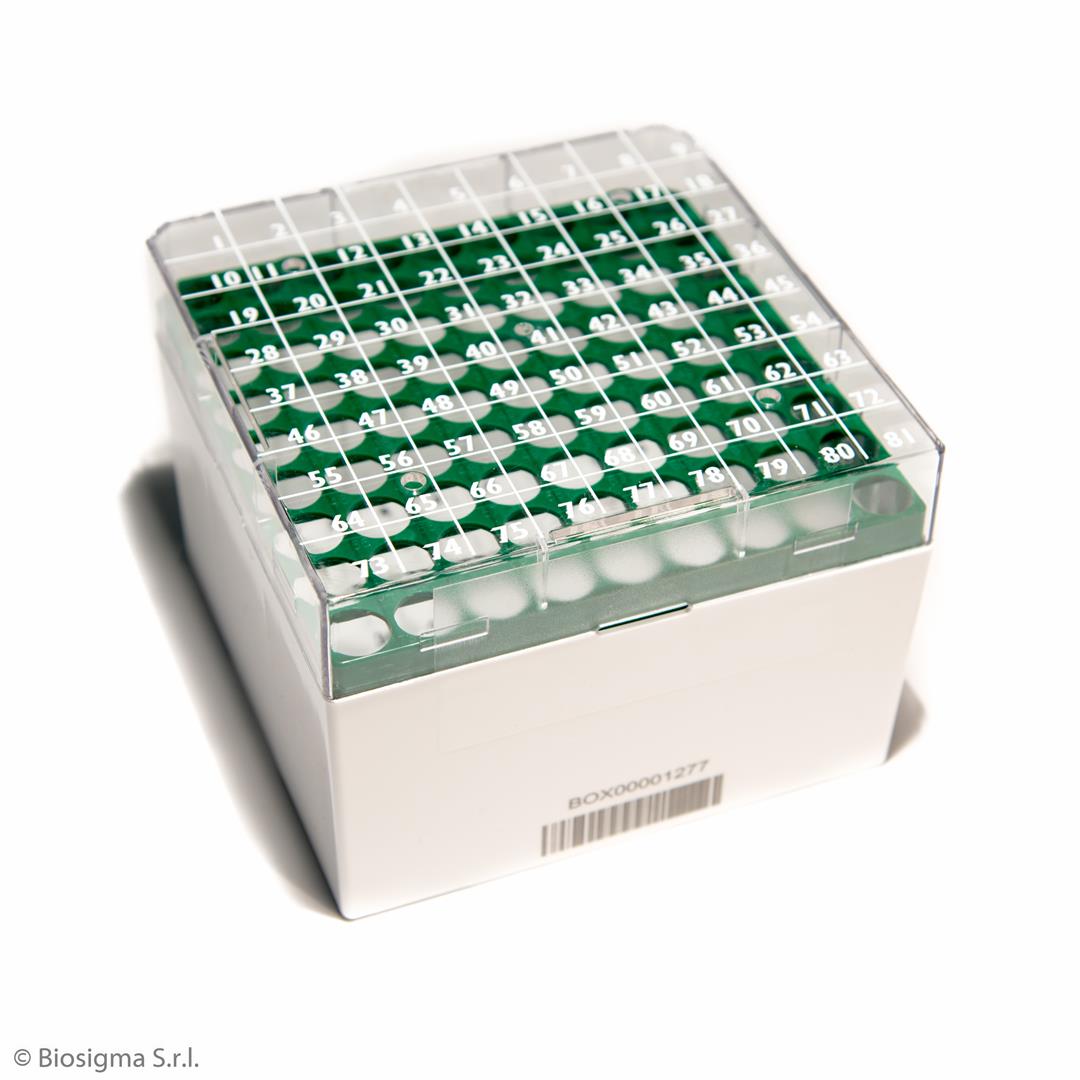 BSM58071B1D/V
CRYOGEN&reg BOX 81 places -1D barcoded- for 3-4-5 ml external tubes and 5ml internal tubes, green grid, numbered lid, writing area on box side, in polycarbonate. 132x132x94 mm
4
100 positions
Image
Code
Description
Unit
Quantity
BSM581001D/B
CRYOGEN&reg BOX 100 places -1D barcoded- for 1 and 2 ml tubes internal thread,white bottom, numbered lid, writing area on box side, in polycarbonate. 132x132x52 mm
4